Chianti Wine from Tuscany
Chianti wine from Tuscany is among Italy's best. It is emerging after years of being under the image of cheap wine in a raffia covered bottle to recognition as a great wine of the world

The name Chianti refers to a defined wine zone in the region of Tuscany.

The grape varieties used in all Chianti wine are Sangiovese (at least 75% of the blend), Canaiolo Nero, Trebbiano and Malvasia.  The last two varieties are white. They are used in small amounts to soften the harshness of some Chianti red wines, but their use of white grapes is being phased out and will no longer be permitted in a couple of years.
Canaiolo Nero is a soft red variety that is also used to blunt the edge of roughness that some Sangioves wines can have. In previous centuries Chianti wine was predominantly Canaiolo but now its role is as an minor blending partner and even this role is disappearing.

Two sweet white wines also have the name Chianti in their title Vin Santo del Chianti and Vin Santo del Chianti Classico. Both are made with Malvasia and/or Trebbiano grapes. Vin Santo means "holy wine' It is made in other areas of Tuscany and in the Northern region of Trentino-Alto Aldige.


Chianti Wine Zones

All Chianti wine is produced in a specified Zone of Tuscany.  Within that zone there are eight Subzones


Chianti Classico
Chianti Colli Fiorentini

Chianti Colli Senesi 
Chianti Colline Pisane

Chianti dei Colli Aretini 
Chianti Montalbano 
Chianti Montespertoli

Chianti Rufina
Each of these Chianti Subzones has its own DOCG Status. Wines from the Chianti region outside these Zones can qualitify for the lesser classification of Chianti DOC.

-see explanation of Italy's DOCG system
Chianti Classico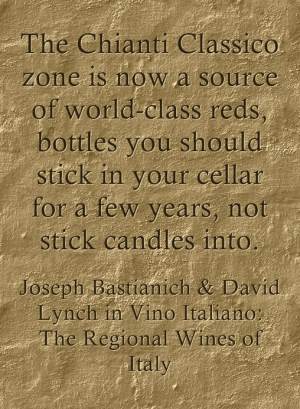 This subzone is the largest and it covers an irregular area stretching from the southern outskirts of Florence southwards to Sienna. It is also widely regarded as the best subzone of the region.

As the name implies that this is the core area of Chianti and the was first defined early in the Eighteenth Century, although the name Chianti had been in use for several centuries before then. 
In the hurly burly of Italian politics the area has been expanded greatly since its initial delineation, not always to the advantage of wine quality.
More recent changes have been aimed at protecting the name by emphasis on rules to improve quality and reputation.
The quick way to recognise a bottle of Chianti Classico is to look got the emblem of the Black Cockerel on the neck of the bottle.

Chianti Colli Fiorentini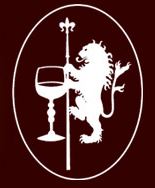 This region is centered on the great renaissance art city of Florence, or Firenze in Italian. This is in the northern part of the Chianti Zone.

The name translates roughly as "Florentine hills".
These wines are aimed more at the drink-now market rather than for aging. They are the wines that you are most likely to encounter in cafes and trattorias in Florence, or throughout Italy.
You won't find critics raving about these wines but they serve their purpose well - paired with appropriate foods of course.

Chianti Colli Senesi

This Subzone is in the south western part of the Chianti Zone including the hills around the famous village of San Gimignano and also the commune of Montalcino, home of the famous Brunello di Montalcino.
The zone consists of three distinct enclaves, separated by wheatfields.

The climate is here is a little warmer and the wines are slightly lighter in body than wines from the rest of Chianti, but the differences are only very slight.


Chianti Colline Pisane

 This name of this subzone translates roughly as the the "hills around Pisa"

Once again these wine are slightly lighter than those from those made in other Subzones and are regarded as suitable for everyday drinking rather than for extended aging.


Chianti dei Colli Aretini
This subzone is from the region around Arezzo in the foothills of the Apennines to the east of Florence.

Chianti Montalbano
Chianti Montespertoli

Chianti Rufina

First let's clear up a popular misconception.  Chianti Rufina, the subzone, has nothing to do with Ruffino, the wine producer. Ruffino is the company that gave the world the Chianti flask wrapped in raffia. You will still find the raffia bottles but now Ruffino make a wide range of better quality wines.

Rufina on the other hand is the subzone in northern Tuscany which makes elegant wines suitable for aging.  The climate in this subzone is cooler, at the limit for growing Sangiovese where the grape shows itself at its aromatic best. If you can't get a bottle of Classico then get yourself a bottle of  Rufina. The Nipozzano illustrated above is recommended as a value for money Chianti wine.


Food and Chianti Wine

Lighter bodied (and less expensive) wines from this regions are suitable for informal drinking with simple pizzas and pasta dishes, but with more full bodied Chianti wines you will want to give some thought to pairing with suitable food.

You can serve Classico with heartier meat dishes such as osso bucco, roast lamb, or grilled steak Florentine. Pasta with a meaty ragu is another suitable choice

Here are a few suggestions

Cheese Ravioli with Spinach and Herbs: Cheese ravioli tossed with a tomato sauce cooked with garlic, shallots, oregano and spinach. Topped with grated Piave cheese.


Steak with a Crispy Herb Crust & Bacon: Grilled sirloin steak topped with a crusty "Casino topping"  (shallots, peppers, garlic, oregano, white wine reduction, butter, Parmesan and breadcrumbs) and warm bacon pieces.

Chianti With Fish? Maybe not with simple grilled fish, but a fish stew with tomatoes and oregano could be nice with a glass of Chianti Colline Pisane.

Vegetarian Food Pairings with Chianti

Sangiovese based wines go well with tomato and herb flavoured dishes so you might like to try some Chianti wine with pasta and a tomato based sauce.
Or perhaps a pizza with a tomato and basil topping. Another vegetarian food pairing suggestion is polenta with mushrooms braised with garlic and wine.