Sicily Wine and Food

The large island of Sicily is a part of Italy yet apart in its history, culture, food and wine. Here is some advice on how to enjoy Sicilian food and wine when you visit, or at home wherever you are.

Italian Name: Sicilia
Capital: Palermo
Major Grape varieties: Catarratto, Carricante, Grecanico, Grillo, Inzolia (aka Ansonica) Malvasia, Zibibbo (aka Muscat of Alexandria) (whites) Frappato, Nerello Mascalese, Nero D'Avola, Perricone(reds)
Best known wines: Etna Bianco, Marsala
Food specialties: Tuna, Citrus, Almonds, Vegetables especially eggplants, Agrodolce (sweet and sour dishes like Caponata), Arancini, Sweets, Gelati
The Wine Regions of Sicily

The wines of Sicily are organized as part of the DOC system. The most exclusive level in this system is the DOCG level. See more about Italian wine classification here

There is only one region which has been awarded the highest level, the Cerasuolo di Vittoria DOCG.
Many of the wines from other regions are made and marketed as DOC. The following list comprises all of the DOC regions in Italy.
Alcamo
Contea di Scafani
Contess Entillina
Delia Nivolelli
Eloro
Erice
Etna
Faro
Malvasia di Lipari
Mametino di Milazzo
Marsala
Menfi
Monreale
Noto
Pantelleria or Moscato di Pantelleria
Moscato di Siracusa
Moscato Passito di Pantelleria
Reisi
Salaparuta
Sambuca di Sicilia
Santa Margarita di Belice
Sciacca
Vittoria
These regions are mapped on the De Long Wine Map Of Italy
I highly reccomend this map. It is a great educational resource and it is also a beautiful frameable map of 24 x 36 inches. It would be ideal on the wall of your cellar or dining room.

A Wine Map of Sicily's Wine Regions

The image below is of a map of Sicilian wine regions by Steve De Long. You can download it as a pdf file and expand it to any size you want. It is much clearer than the image below.

Get your free copy of this wine map of Sicily by going to De Long Wine Info and looking under Free Resources.
(Hint: While you are there check out the other beautiful maps and charts for sale)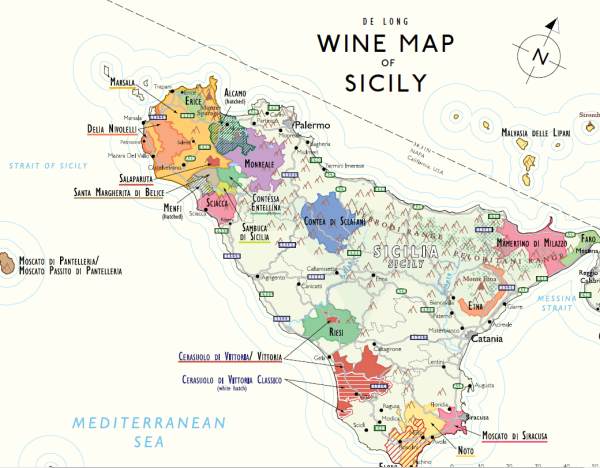 Wine Varieties of Sicily

Sicily's position in the middle of the Mediterranean and its rich history of contact with other lands has left a huge diversity of varieties used.  Many are believed to have been introduced by the Greeks who occupied much of Sicily for centuries before the Romans arrived.

Most Planted White Wine Varieties


Cararratto
Inzolia
Trebbiano Toscano
Grillo

Chardonnay
Grecanico
Zibibbo (aka Muscat of Alexandra)

Viognier

Moscato Bianco

Malvasia

Sauvignon Blanc

Fiano


Most Planted Red Varieties in Sicily


Nero d'Avola

Syrah

Merlot

Nerello Mascalese

Cabernet Sauvignon

Frappato

Nerello Cappucio

Perricone

Nocera

Sangiovese

Petit Verdot

Pinot Nero (Noir)

Grenache


Source: The World of Sicilian Wine by Bill Nesto and Frances di Savino

Foods of Sicily

The the traditional foods of Sicily are influenced by history and geography. The island has been under the influence of the Greeks, Romans, Saracens, Normans, Spanish, to name just a few.
It's position surrounded by the Mediterranean Sea and in the south of Italy with an abundance of sunshine allows the cultivation of many fruits and vegetables - most notably eggplants, tomatoes, citrus, olives and of course grapes and grain.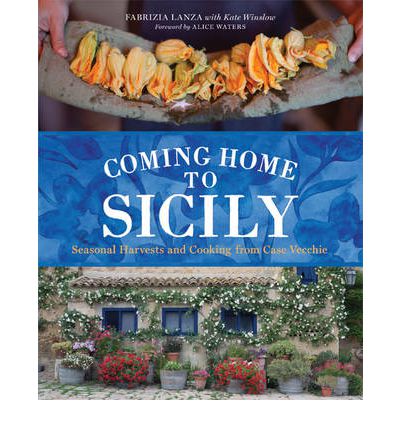 You can order this book from Book Depository with free worldwide delivery