Umbria Food and Wine

Umbria lies in the green heart of Italy. It share's the natural beauty, artistic and architectural splendor of its better known neighbor Tuscany, but it lacks the tourist crowds.
Use the information on these pages to plan your own trip to Umbria, or you can enjoy the wine and food at home at your leisure.

Italian Name: Umbria
Capital: Perugia
Major Grape varieties: Grechetto, Trebbiano Chardonnay (whites) Sagrantino, Sangiovese, Gamay (reds)
Best known wines: Orvieto Classico white, Sagrantino di Montefalco
Food specialties: Norciera (cured meats and sausages based on pork and wild boar) Black truffles, game birds and lentils
Wine Zones in Umbria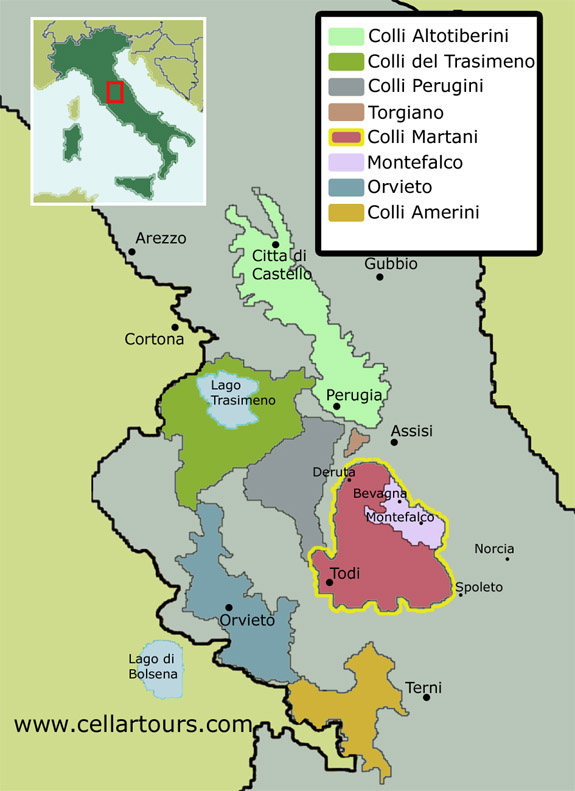 The map above is published by cellartours.com, providers of luxury visits to wine regions.

Wine is grown throughout Umbria. There are two DOCG Wine Zones, namely Montefalco Sagrantino and Torgiana Riserva, and a dozen DOC Zones.
Red Wines of Umbria

Two wines are given DOCG status, the highest classification.

Montefalco Sagrantino is made from 100% Sagrantino which is the distinctive red wine grape of the region. These wines are dark and dense with flavors of blackberry. Sometimes the grapes are semi-dried before fermentation adding to the richness.
Torgiano Riserva is made from the Sangiovese variety blended with Canaiolo, a red wine grape that is not highly regarded elsewhere. These wines are aged for at least five years in oak, hence the Riserva in the name.

The other red wines of the region are usually based on Sangiovese, often blended with other varieites such as Canaiolo, Montepulciano and Cabernet.
White Wines of Umbria

The best known white wine is Orvieto, which gets its name from the city on the western edge of the region. Orvieto wine has 40-60% of the Trebbiano Toscano variety, 10-25% of Verdello and smaller amounts of Grechetto, Canaiolo Drupeggio and Malvasia. The wines are dry or medium dry, and sometimes semi-sweet, although the later style is no longer produced in much quantity. There is also Orvieto Rosso.

Many other white wines in the region are also based on the Trebbiano Toscano variety. It is ideally suited to the climate here and thus produces large volumes. The problem is that these wines are often lacking in much flavor and character. This is generally overcome by blending with the varieties used in Orvieto plus a few others such as Pinot Grigio and Pinot Bianco.
Grechetto seems to be the white wine variety with a future in Umbria. It produces wine with structure and is often blended with other varieties. The whites of the Todi DOC, for example, are at least 50% Grechetto and very good value for money.
Wines from Umbria are widely exported. You can find where to buy them, both online and in physical stores near you from this service. You can even find label images, reviews and price comparisons.
Food of Umbria
This is a landlocked region and is quite mountainous in parts, harboring game such as wild boar - cinghiale. There are rich agricultural lands suitable for growing crops such as lentils and spelt, a cereal grain similar to wheat. But the prized produce of this region are norcinera, black truffles and high quality olive oil.

Norcinera

The small town of Norcia sits in the southwest of the region in a valley at the foot of Mount Sibillini. Over the centuries it has achieved fame as THE place for Pork products made from domestic pigs and from wild boar. The word norcino means both an inhabitant of the town, and a pork butcher and sausage maker.
The butchers of Norcia produce fresh and air dried sausages. These come in a variety of shapes and sizes and are flavored with a wide range of seasonings and herbs. Hams and cured meats are made with various cuts of meat, for example barbozzo, cured pigs cheek.
A stroll along the butchers street in Norcia is quite an experience. You will meet plenty of wild boars who have had the careful attention of local taxidermists.

Several meats can be used as an antipasto. On a recent visit to Norcia I had a memorable lunch of a platter of  norcinera meats served with cheese dressed with saffron infused honey. This simple meal was accompanied by crusty bread and a glass of Sagrantino di Montefalco.
Truffles

Umbria is home to black truffles, tartufi in Italian.. Elsewhere in Italy, Piedmont and Tuscany for example white truffles are more common. Black truffles are used as a the flavor in a number of dishes.

Frittata al Tartufi, truffle omelet. Finely chopped truffles are added to beaten eggs and cream. the eggs are cooked on both sides in an iron skillet, then slid onto a warm plate and served immediately. Suggested wine, a crsip white Grechetto from Todi.

Spaghetti alla Norcina has a sauce made of garlic, crushed anchovies and thinly sliced truffles. You could drink a Montefalco DOC wine with this dish.

Crostini Umbri are made by tasting slices of rustic bread and spreading them with a paste made with grated truffles and anchovy fillets. This makes an easy starter or finger food with afternoon drinks. An interesting pairing would be with an off-dry Orvieto white wine. I find salty appetiser dishes are surprisngly good matches with off dry white wines.

Olive Oil
The Umbrians are very proud of their olive oil.

The extra virgin olive oil from this region is characterized by its green color and attractive aroma. It is worth seeking out.

You can also buy Olive oil infused with black truffles

Other Foods of Umbria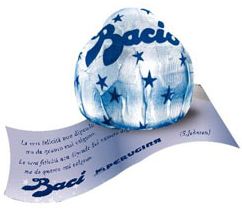 As a landlocked region it is not surprising that freshwater fish from the rivers and lakes are prized here. Guinea fowl, partridges and quail are also local favorites.
Perugia is world famous as the HQ of Perugina, makers of Baci - the famous chocolates. There are many other chocolate makers in Umbria, many small and artisanal.

Visit Umbria

You can get a closer look at Umbrian wine and food if you stay in the region. For example you can book the rustic cottage below and enjoy many traditional trattorias with typical local food in the surrounding area.
There are excellent paths through the nearby woods for walks and cycle trips.
You can also enjoy interesting excursions to tranquil monasteries and historic castles.
Click on the image to see details of this cottage and others in this region

Images of Umbria

I have made a Pinboard to collect some images of Umbria, with special emphasis on food and wine, but the scenery is so beautiful that some other images ahve crept in.
I hope these images will inspire you, whether you are planing a trip to Umbria, or just dreaming about going there someday.
If you want to bring Umbria into your home you might like to check out the range of art works at Art.com, a small sample of them is shown below.  Click on the images for details or to find more images of this wonderful Italian region.

| | | | |
| --- | --- | --- | --- |
| --- | This store brought to you by | | --- |