What is Your Favorite Italian Cookbook?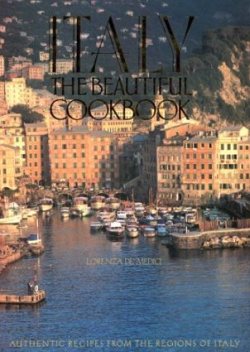 Even in the Digital Age I still love cookbooks, I know there are plenty of online recipes but I still like to leaf through a book.
Perhaps you like Lidia's Italy in America, or if you are from the the other side of the Atlantic you'd prefer Jamie's Italy
Getting beyond TV cooking celebrities there are plenty to choose from, for example I love Culinaria Italy
See more of my favourite Italian cookery books here
But this page is about you. Use the form below to share your opinion about the best Italian cookery book.

What makes a good Italian Cookbook?

There are a few criteria I look for Italian cook books.
Must recognize that Italy's cuisine is strongly regional
Methods must not be to complicated or fiddly
Ingredients, or close substitutes, should be readily available
Recipes should be put into a regional context
Wine recommendations

Pictures are nice but not essential

What is YOUR favourite Italian Cookbook?
There are hundreds, even thousands of Italian Cookery books out there, but we all have a favorite.
Please share your favorite cookbook or author with the readers of Italy Wine Food Pairing.
Other favorite Italian cookbooks from readers
Click below to see contributions from other visitors to this page...