Grechetto
This variety is more correctly known as Grechetto di Orvieto,a name which reflects its role as a blending partner in Orvieto DOC, Umbria's most famous white wine.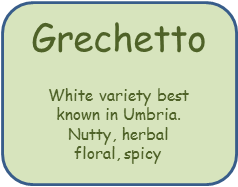 Jancis Robinson, in her book Wine Grapes, lists the variety under the name Grechetto di Orvieto, although it is often commonly known simply as Grechetto, or Grechetto Bianco. There is another variety called Grechetto di Todi, but this is in fact Pignoletto.
One of the best known wines of Umbria is Orvieto DOC. This wine named after a prominent town in Umbria is a blend of the varieties Trebbiano Toscano and Verdello, along with 15-25% of Grechetto. Winemakers believe that the Grechetto component of the the blend is what gives the wine its aroma and character so they tend to include as much as the law allows.
Grechetto is also required or authorised in other DOC wines, for example in Assisi, Colli Amerini, Colli Martani, Colli del Trasimento, and Colli Perugiano.
Grechetto is also used in other nearby Italian regions, namely Lazio Marche, Tuscany.
I recommend Snooth search engine. It will find wines of this variety, provide descriptions and reviews AND locate online and physical stores near you that sell these wines along with price comparisons.
Try it from the box below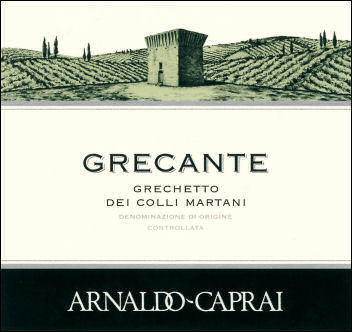 The best wines made from this variety are probably blends such as in Orvietto Classico. In Vino Italiano, Joe Bastianich recommends Poggio del Lupo, Castello della Sala and Palazonne as wines you could try.
Jancis Robinson mentions Lungarotti's varietal Grechetto as a good example of a wine you should try.
Grechetto Wines and Food
The wines made from this variety are most often light bodied but they do have enough flavour to accompany buttery and herby pasta sauces.
You might like to try Castelluccio Lentils with Tomatoes and Gorgonzola, as a typical dish of the Umbrian region. Sun dried (or oven dried tomatoes, crumbled gorgonzola, sliced red onions, fresh herbs, oil and vinegar are used to dress freshly cooked lentils.
Umbria is a landlocked region and river fish often appear on the menu. Why not try a varietal Grechetto with trout poached in white wine.