Montasio Cheese
Montasio cheese is a traditional speciality of the Friuli-Venezia Giulia region. It is also produced in the nearby Veneto Region.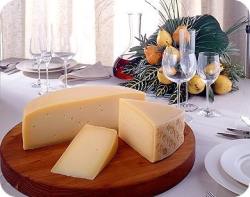 The name Montasio is protected by a DOC - denominazione di origine controllata - meaning the cheese is produced in a specific region of Italy following well-defined traditional procedures to preserve its authenticity.
Many wines in Italy are produced under the DOC system, but few people are aware that many other products are also authenticated by the DOC system.
Montasio cheeses are categorised according to age
Fresco - aged 2 months with a mild flavor
Mezzano - aged 5 to 10 months with a more powerful flavor
Stravecchio - aged over 10 months with a more nutty flavor and firmer texture
Some Recipes with Montasio
Montasio can be used as part of a cheese board or as a component of an antipasto platter
The more aged Montasio version can be grated.
One popular way of using Montasio is the cheese for local dish called Frico - a type of fried pancake.
Frico con Potate Cheese and Potato Fry
1 chopped onion
4 medium potatoes peeled and sliced thinly
1 tbsp butter
250ml stock
400g Montasio
Melt the butter in a frypan and lightly saute the onion, add the potatoes and toss to coat them with butter. Add the stock and simmer gently until the potatoes are soft and the stock has evaporated. Grate or finely dice the cheese and scatter over the potato. Allow the cheese to melt and brown around the edges.
A frico can serve as a light lunch, perhaps with a salad. It is also suitable as a component of a picnic basket. A traditional use was by vineyard or forest workers who had a frico in their packed lunch.
Wine Suggestion
A suitable wine to enjoy with this dish would be a lighter style white, for example a Sauvignon, or perhaps a Pinot Grigio - from Friuli, of course.
Where to Buy Montasio
Montasio cheeses are exported and are thus reasonably easy to obtain in Italian grocers.
If you wish to try some online you can buy some from this online store which specialises in gourmet products from Friuli. You can buy one pound or three-and-half pound cheeses
More about different types of Italian cheese