Negroamaro Wine and Food

Negroamaro is a red wine grape widely grown in Puglia, Italy. It is used in a number of DOC regions, perhaps most famously in Salice Salentino.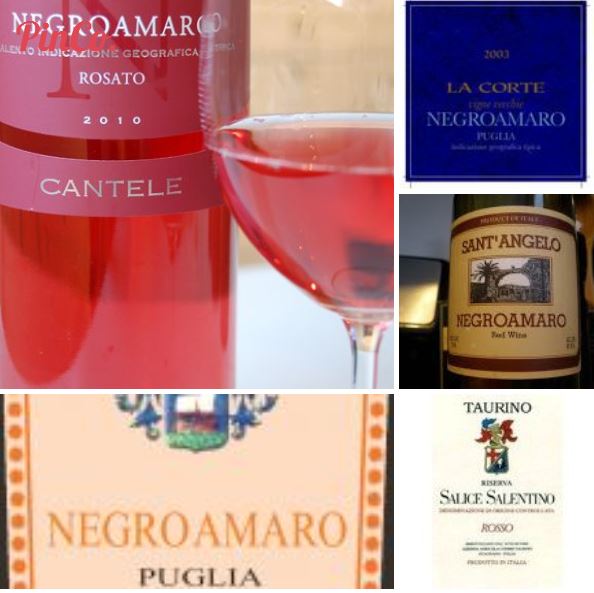 The Taste of Negroamaro
Negroamaro can be made into big heavy wines, but with care it an also make wines which are delicate and aromatic.  In fact some of the best rose wines I have tasted are made from Negroamaro and you can also get sparkling pink Negroamaro.

Negroamaro is used in varietal wines and in blends with other Puglian varieties such as Primitivo and Malvasia Nero.

The name is supposed to mean "black bitter" and this puts some people off from trying it. The black part of the name at least is accurate, but the bitter part is questionable.  Red wines made from Negroamaro are often astringent but they can also be a little sweet and aromatic.

Some of the DOC regions which use Negroamaro are Alezio Brindisi, Copertino, Galatina, Leverano, Matino, Salice Salentino, Squinzano. You can find out where these regions are using De Long's Wine Map of Italy.
Negroamaro has its own wine festival in Brindisi

Food Pairing with Negroamaro
Most Italian wines are best served with food.  This is especially true of wines made from this variety. Negroamaro can be enjoyed with simple pasta dishes or pizza but it is worthwhile trying to find something typical of Puglia or Southern Italy.
Antipasto especially if it includes slightly spicy foods, for example Calabrese salami
Slow baked lamb and potatoes.  A mixture of breadcrumbs, Parmesan, herbs and pepper is made in a bowl. A layer of chunky pieces of waxy potatoes is put into a Dutch oven and alternating layers of cubed lamb and the bread crumb mixture are added. Some olive oil and some white wine are added and the dish is covered and cooked in a slow oven for an hour and a half, the last 30 minutes without the lid. This is a dish I learnt at the Awaiting Table Cooking School in Lecce Puglia.
Pepperonata is a stew of onion garlic red peppers (maybe some green and yellow as well) and tomatoes cooked with olive oil in a heavy based saucepan and decorated with torn basil  leaves and parsley.  It can be served on its own, as a topping on bruschetta or as an accompaniment to barbecued fish or meat.
Grilled tuna steaks - Baste tuna steaks with a mixture of thyme leaves, olive oil, sea salt and lemon juice and leave marinating fro a couple of hours in the refrigerator. Grill them over hot coals along with some grilled peppers and eggplants.
Here are three suggestions for authentic Puglian recipes from Sandro at Feudi di Guagnano. All are ideal for pairing with Negroamaro wines

Do you have any suggestions for food pairing with Negroamaro? Leave a note below.