Nero d'Avola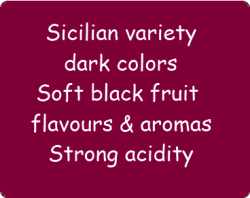 Nero d'Avola, the 'black' wine from Avola is a grape variety of contradictions.

The wines made from this variety are at the same time strong and soft, maybe the vinous equivalent of "iron fist in a velvet glove."
Avola is the name of a town in the south east of the Island of Sicily, and of course Nero is the Italian word for black.

Of the native red wine varieties in Sicily this variety is regarded by many to have the greatest potential for making quality red wines.

Some wines from this variety
This variety is not grown to any great extent in other Italian wine regions even though it is also known by the synonym Calabrese.
Nero d'Avola has long been the most favored variety in Sicily, where its deep color and firm structure were prized components of blended wines. In more recent times varietal Nero d'Avolas are becoming more popular.
Cerasuolo di Vittoria is a blended red wine, the mix is roughly 60% Nero d'Avola and 40% Frappato; the requirement is that nreo has to be at least 50%.

There is consideable interest in Nero d'Avola in Australia where a number of producers have introduced the variety recently.

Nero d'Avola and food

pairing


The short answer of what to pair with Nero d'Avola wine is "meat" and um, maybe fish.


Lighter versions can be paired with roast veal or pan roasted pork. More robust wines will go with heartier beef stews, roast turkey or game dishes.

Tuna is a much loved dish in Sicily. Palermo-Style Tuna is a robust dish that calls for red wine rather than white. Tuna steaks are marinated in dry white wine, lemon juice, garlic and rosemary. After a few hours the steaks are drained and grilled, using the marinade as a baste. Meanwhile some sardine fillets are cooked in olive oil and crushed into a paste then spread over the tuna steaks immediately before serving. Recipe from Culinaria Italy


Back from Nero d'Avola to Italian Red Wine