Daring Pairings Book Review

The full title of this book By Evan Goldstein is Daring Pairings: A Master Sommelier Matches Distinctive Wines with Recipes from his Favorite Chefs.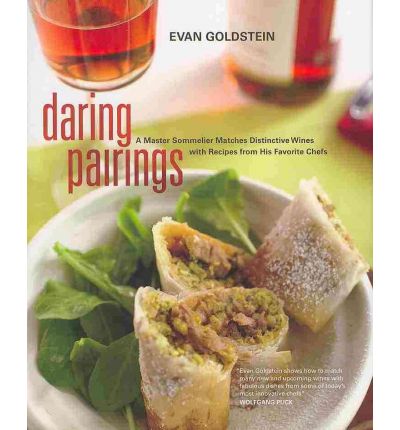 This book is a follow on from the author's Perfect Pairings which covered the more common grape varieties. The  Daring in the tile refers to the grape varieties used as well as the foods. A quick glance at the list of varieties covered reveals that this book is for those who wish to venture beyond the comfort zone of familiar classic varieties.
There are a number of things to like about this book.
Firstly the style of writing and the clear explanations deftly guide the reader through some fairly tricky concepts. Goldstein's wealth of knowledge and experience is on display in just about every paragraph and he is more than capable of getting his point across.

What's In Daring Pairings

Daring Pairings gives general and specific advice about pairing for a number of varieties which I find are most interesting. 

The food choices and recipes are adventurous without being outlandish. The writing style is clear and concise. While the author claims he has not written an encyclopedia there is lots of information packed into the 350 or so pages.

Goldstein takes analytic approach to sorting out wine and food separately, then combining them. He identifies five keys to understanding wine, and then three keys to understanding food.

Each of the five wine keys is described in some detail. They are Acidity, Sweetness, Tannin, Oak and Alcohol. How these factors combine to make a wine suitable for a range of foods is elucidated in some detail.

Three keys to understanding food a re discussed. They keys are Ingredients, Cooking Methods and Sauces and Condiments.

If all of this sounds a little academic at first, don't worry the idea is to develop your knowledge and experience so that you can instinctively come up with a suitable pairing, just like you can eventually come up with the right word as you become fluent in another language.

The bulk of the Daring Pairings is made up of an comprehensive description of each of the varieties listed at right.

For each variety the description includes synonyms, styles, common flavors found in the wine and its geographic distribution.

Under the heading Vintners' Choices is a discussion of how winemakers can use the variety in different ways, for example whether or not the variety is suitable for oak treatment, or perhaps fermentation in barrels or stainless steel.



Varieties described in Daring Pairings

White wines

Albarino
Arneis*
Assyrtio
Chenin Blanc
Garganega*
Gruner Veltliner
Marsanne
Muscat
Pinot Blanc
Prosecco*
Roussanne
Semillon
Torrontes
Trebbiano*
Txacoli
Verdejo
Vermentino*

Red Wines

Aglianico*
Barbera*
Cabernet Franc
Carignan
Carmenere
Cinsaut
Dolcetto*
Gamay
Grenache
Malbec
Mencia
Mourvedre
Nebbiolo*
Petite Sirah
Pinotage
Tannat
Tempranillo
Touriga Nacional
Xinomavro

* denotes Italian variety
Then we get to the point of the Daring Pairings, what foods to have with the variety.  In these discussions for each variety Goldstein explains why and how certain foods will marry best with the wine. Bullet lists of do's and don'ts follow to give the readers a quick overview of where to go. These pointers display a theme used throughout the book:
Try it and see for Yourself!
Wine and cheese are a common pairing, but as we are exposed a greater range of both we have even more choices - which wine? which cheese?  So there is a brief chart of some cheese choices for each variety as well.
The thirty six varietal chapters conclude with a recipe for a dish to serve with the relevant variety. These have been contributed by a leading North American Chef and are accompanied by commentary about why the recipe is suitable for that wine.
Where to Buy this Book
I like to use Book Depository to buy books online.
They have a huge range
The site is simple and intuitive to use

Their prices are competitive
They deliver worldwide, shipping cost included in price

I have found them very reliable
Get details of how you can get your copy of Daring Pairings

See more recommended books about Italian Food and Wine